Ohr Torah begun its congregational life in 1964 as the Highland Park branch of AA. The driving force behind this Highland Park minyan was a trio of men with great foresight: Mel Wagshul, Herb Kenter, o"h, and Harold Levy, o"h.
Two years after AA's Richmond Ave shul burned down on Yom Kippur of 1981 the Highland Park minyan made up primarily of American-born, college-educated and newly-arrived families, became an independent shul, taking on the name Ohr Torah (OT).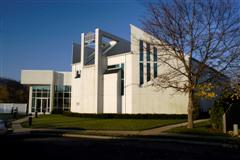 Davening first took place on the second floor over the Berkeley Bakery. Yes, there was a second floor there until a fire destroyed the top half of the building. Mention should be made here of the courageous acts of Mel and Herb who ran into the building to save the sifrei torah.
The branch then relocated first to a room in the Workman's Circle building on Woodbridge Avenue for Shabbat and Yom Tov only. There were only about 25 mispallelim at that time, but as the conregation grew OT moved to a larger room in the same building. After one more move to an office building, OT in 1978 rented space from RPRY elementary school, and thus the famous "gymnasium shul" was born, with the backboard serving as an acoustical panel and the shulchan at the foul line. Here OT remained until its present, magnificent shull building was constructed in 1998. As part of Ahavas Achim in the early years OT's moro d'asra was Rabbi Pesach Raymon. He remained in that position even after both shuls were now located in Highland Park. Rabbi Yaakov Luban was elected as rov of the congregation in 1983, a position he held together with Rabbi Raymon for a short period of time. Rabbi Luban has now served OT with distinction for 21 years.
History written by Rabbi Israel Poleyeff.